Helloeveryone! This is Morghan here! I dont no hao to use a cumputer verywell, but im tryin my best. Earlier Iwas thinkiiing, EVERYONE seemz to luv mE very much I've been so very happy making so many new fwiends and g ettin pet awl the time!
But I was wondering...why dew you guys love me so much?

Juss cuorious.
I luv you awl! ~

Please nver stop being mI friend! : )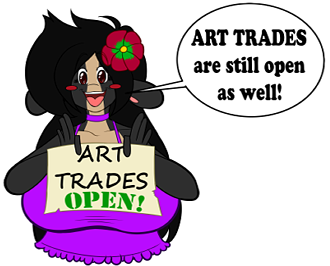 -----------------------------------------------------------------------------
-----
COMMISSIONS
Digital Drawings
Digital Sketch: $5
Digital Inked: $15
Digital Flat Color: $25
Digital Full Colored and Shaded: $40
All drawings include an optional white outline, captions and simple single colored background free of charge.
Detailed Backgrounds: +$15
Additional Characters:
Sketch: +$10 Inked: +$15 Flat Colored and Shaded: +$20
Comics
Digital Black and White Inked: $30 per page
Digital Black and White Shaded: $40 per page
Digital Flat Colored: $50 per page
Digital Full Colored/Shaded: $80 per page
Backgrounds and Captions included.
Animations
Base price: $100 (negotiable depending on the simplicity of the animation)
Price will be given after discussion. No longer based on time.
PayPal
is
Ravensen@hotmail.com.
Start selling!
Women of Erotica 01:
[link]
Women of Erotica 02:
[link]
Women of Erotica 03:
[link]
Women of Erotica 04:
[link]
Finishing College